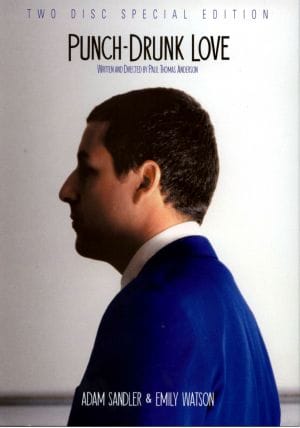 A Masterful And Artful Look At What It Means To Be In 'Love'
Paul Thomas Anderson and Adam Sandler. For those of you that love film, those are two different personalities in the film industry one would probably never expect to be in the same sentence. But watching
Punch Drunk Love,
I was amazed at the combination between these two as Anderson manages to bring out the best performance of Sandler's career.
Story:
Punch-Drunk Love
follows a lonely man named Barry Egan (Adam Sandler) who is constantly tormented by his sisters and tries to find a loophole in a frequent flyer miles program by purchasing extensive amounts of pudding. He then starts to become less lonely after meeting his sister's co-worker Lena (Emily Watson) but finds himself in a complication involving a corrupt phone sex line led by a mattress salesman (Philip Seymour Hoffman).
What I Liked About It:
Before I get into the direction by PTA, I'll first go into Adam Sandler. All I have to say about his performance is Damn. He shows us a side of him that we almost never see on screen as he reveals a rather unnerving intensity. Plus, he completely and almost relievingly ditches his "man-child" routine. I'll admit, I do enjoy watching him do that routine, but a little variety never hurts. So, I was very pleased with Sandler's performance and will be patient enough to see him do another film like this because I have a feeling it will be for a while.
Next, I'll discuss Paul Thomas Anderson's direction. One word: phenomenal. He really incorporates the "mise en scene" approach to his directing as there are plenty of visuals used to tell the story. For example, there is a harmonium that suddenly drops outside Barry's shop and it plays into the plot as it represents a musician trying to find his voice or his song. Plus, he has heavy use of the colors blue, white, and red. Barry wears a blue suit throughout the film and I am sure that is a representation of his loneliness. I normally think that red represents guilt, but I think here it is a symbol of love as Lena is constantly wearing that color. There is even a scene where Barry flies over to Hawaii to visit Lena and he is greeted by two female flight attendants in red before he heads into the plane. Now that I think about it, it shows how the color red is always leading Barry to his feeling of satisfaction or his love. But white is the opposite. Throughout the film, Barry is practically encased by the color white in different places and to me, that shows how he is enclosed in his own world, like he is trapped in a fish tank. Anderson also uses the long tracking shot technique at plenty of points in the film. One scene that was my favorite is Barry is talking to a phone sex operator the morning after the night they first talked and as the scene progresses, the lady on the phone gets more aggressive and Barry then just stands still. Paul Thomas Anderson won the Best Director Award at the Cannes Film Festival for his work in this and when you watch and look into this film, it is definitely not hard to see why.
What I Didn't Like About It:
Nothing.
Consensus:
Overall,
Punch-Drunk Love
is a masterful and artistic look at the feeling of being in love. It has a tour-de-force performance from Adam Sandler and master class direction from Paul Thomas Anderson. Whether you are a fan of Adam Sandler or completely dislike his work, I would say give this a watch nevertheless. If you fall on either category, you will still be completely surprised.
Grade: A