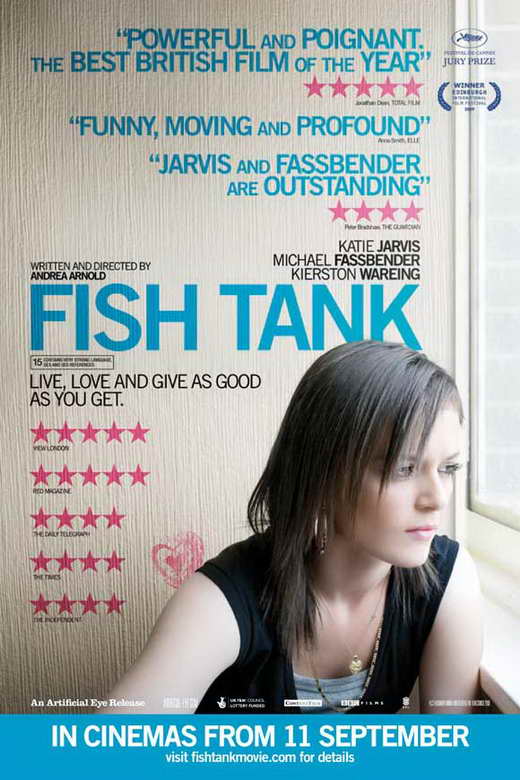 'Fish Tank': A Visceral Coming-Of-Age Story That Never Falls Into The Trenches
Fish Tank
is a great example of how film can be used as a form of poetry as its title is used as a metaphor with the film being built around that metaphor. Since the film is called
Fish Tank,
director/writer Andrea Arnold manages to show how one can feel trapped like they are in a fish tank that has dirty and treacherous waters.
Story:
Fish Tank
follows the story of a 15-year old named Mia Wallace (Katie Jarvis) who doesn't seem to have things easy as she lives in a lower-class neighborhood with her unbearable mother (Kierston Wareing). But her life starts changing with the arrival of her mother's new boyfriend Connor (Michael Fassbender) who encourages her to pursue the one thing that gives her happiness: dancing.
Ups:
I'll start off with the performance by newcomer Katie Jarvis. Jarvis is an absolute force of nature as Mia who has the aggression of an adult yet also has the curiosity and free-spirit of a normal teenager. Even though this was her first movie, it feels as if she has been around for a while and it didn't even seem like she was acting. Hopefully, we get to see more from this young talent as she gives a fine debut that deserves to be ranked among the likes of Emily Watson in
Breaking The Waves.
I'll also give a special mention to Michael Fassbender who delivers an astounding performance as Connor who serves as a father figure/cool best friend to Mia and showcases a rather sensual charm and both he and Jarvis have such great chemistry on screen. With this performance, along with his other work, Michael Fassbender is quickly becoming on of our generation's greatest actors and is on his way to being one of the all-time greats. Kierston Wareing also deserves special mention for her equally layered performance as the overbearing and antagonistic mother with a teenage party girl mentality. All deliver exceptional performances.
Next, I'll get into the direction by Andrea Arnold. I thought it was interesting how Arnold creates a buildup for the sexual tension that takes place between Mia and Connor. One of those scenes in particular that stood out is one where Connor gives Mia his camera and as he leans closer to Mia, she sniffs his cologne and we almost feel as aroused as Mia does once Arnold focuses on her face with Fassbender being blurred in the background. Arnold also doesn't cut away from the more intense scenes and I also loved the opening sequence where, without any dialogue, Arnold shows us what the main character is like through her routine. Interestingly, she even uses music as means to tell the story. For example, Mia likes to dance to hip-hop, but once she meets Connor, he introduces her to artists like James Brown and Bobby Womack and as she becomes more accustomed to those artists, it increases the bond she and Connor share.
Downs:
NIL.
Consensus:
Overall,
Fish Tank
is a well-crafted yet no holds barred coming-of-age story. The overall acting is authentic and the direction/writing by Andrea Arnold is beautifully artistic yet set in a brutal reality.
Would I Recommend It?:
Absolutely. I think that, regardless of a few events that occur which might make some viewers uncomfortable, this should be more widely seen.
Grade: A+