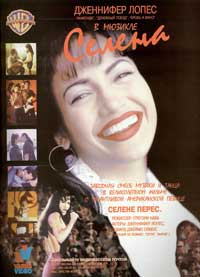 'Selena': A Quietly Powerful Biopic That Really Celebrates The Person It's Based On
When the world was introduced to Selena, she had broken barriers for Latino artists and after her unfortunate death, she is still able to live on through her music. But the film
Selena
manages to not only gear its focus on the feats that Selena accomplished, but the people that helped her get there from the beginning.
Story:
Selena
follows the life story of Tejano singer Selena Quintanilla-Perez (Jennifer Lopez). The film follows Selena's life from when she was a little girl performing in carnivals to a young woman performing at the Houston Astrodome and all the rough patches yet perks that came in between.
Ups:
The thing that I loved the most out of this film was just how it manages to celebrate Selena's short life rather than just focus on the rough patches that occurred. The filmmakers focusing more on the love of her family and what she has accomplished is a wonderful ode to the singer who tragically died too soon. I also liked how (*Spoiler alert*) they didn't actually show Selena getting killed. That would've been unbearable to watch.
Another thing I really liked was the astonishing, career-best performance by Jennifer Lopez as Selena. I have become quite fond of Lopez's other work, but she is just tops here as she plays a woman that is free-spirited yet has a bit of fire. Looking at pictures and real-life footage of Selena, I feel that Lopez just became her. Some of her best scenes were the ones between her and Edward James Olmos, who plays Selena's father Abraham. Those scenes are quite poignant, in my opinion, and Olmos showcases a rather tough exterior of a father trying to protect his young daughter.
Downs:
Nothing.
Consensus:
Overall,
Selena
is a powerful yet poignant ode to the famed singer that counts the blessings more than the burdens. It features a fantastic performance from Jennifer Lopez and I would say whether you are a fan of hers or not, give this one a watch. I would also suggest watching if you are a Selena fan. It might be tough to watch just by knowing how young Selena passed, but it is a wonderful movie regardless.
Grade: A