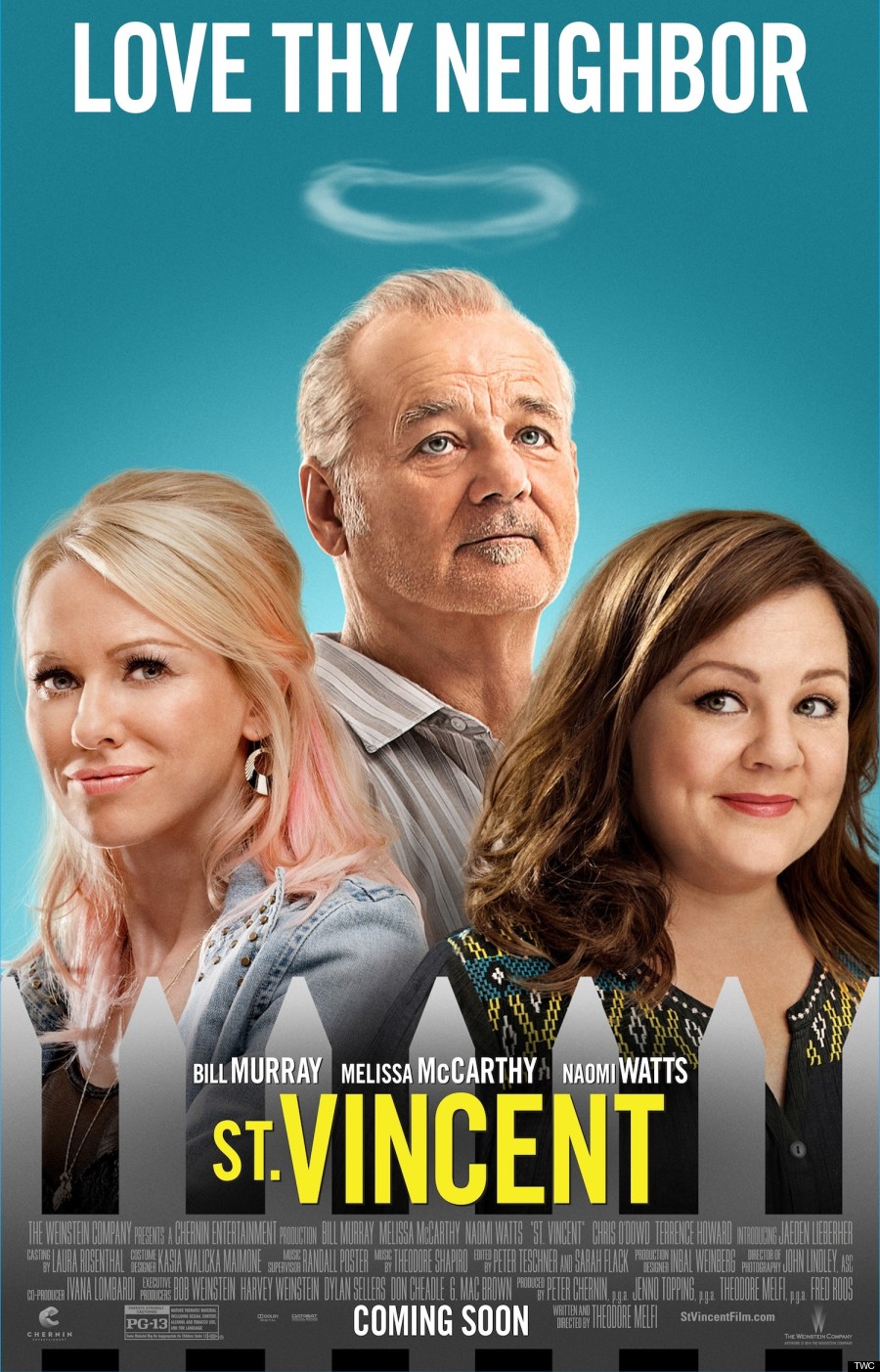 'St. Vincent': A Heavenly Comedy Of Slightly Devilish Proportions
Hello, Bloggers, welcome to another Requested Review, which is the first one in quite a while. Thanks to my buddy Chris, I was able to catch the uniquely heartwarming dramedy known as
St. Vincent.
Story:
St. Vincent
follows the story of a misanthropic drunken war vet named Vincent (Bill Murray) who finds his life changed once he meets his new neighbor, a divorced mother named Maggie (Melissa McCarthy) and forms a bond with her son Oliver (Jaeden Lieberher).
Ups:
First off, I'll discuss the performances. Bill Murray delivers a career-high performance that in my opinion surpasses his award-winning work in
Lost In Translation.
Much like is work in
Translation,
his performance is a blend of both comedy and pathos, but his dramatic chops are really put into high gear in this as he portrays a man who appears hard-nosed yet has wonderful intentions. But when something serious happens towards the end, it feels is if his character goes through a physical and mental deterioration. Melissa McCarthy also switches gears as she impressively shows her dramatic range as Maggie and tugged at my heartstrings with her rather unaffected and quiet desperation. But one actress I'd love to acknowledge is Naomi Watts who plays Daka, a pregnant Russian stripper that serves as Vincent's muse. Watts' character could've easily geared towards the line of caricature, but Watts infuses the character with such comedic charm and layers as well since there are some moments where we see her showcase deceitfulness, sexuality, and warmth. For his first feature film, Jaeden Lieberher is fantastic as Oliver and gives a very authentic performance in my opinion as he showcases his character's insecurities and maturity the way most kids his age would. I thought some of the best scenes were the ones where Murray and Lieberher are together and start to form a bond, creating hilarity and heart despite becoming a pair of troublemakers. Hopefully, Lieberher continue to thrive in the industry.
Next, I'll get into the story and the ending. The ending I'm obviously not going to give away. But I'll say that by the end, while it may get sentimental, here that actually works. Also, while the film is a drama with plenty of comedic elements pushing it forward, it touches on quite a bit of themes. One of them is the struggles of divorce as Oliver struggles to find a father figure since his father is mostly absent and Maggie struggles to make ends meet. Another is the idea of religion since Oliver goes to a Catholic school and his class is given an assignment to think of someone who has saint-like qualities and because of this, Oliver is able to see past Vincent's tough exterior and see him as a saint, hence the film's title.
Downs:
NIL.
Consensus:
Overall,
St. Vincent
is a dramedy that is heartwarming in the more unexpected places. The performances the cast are terrific, the storyline is unique and even though we have seen the whole "old grouch comes out of his shell" premise before, writer/director Theodore Melfi does it in his own special way and I look forward to more from this fresh talent.
Grade: A