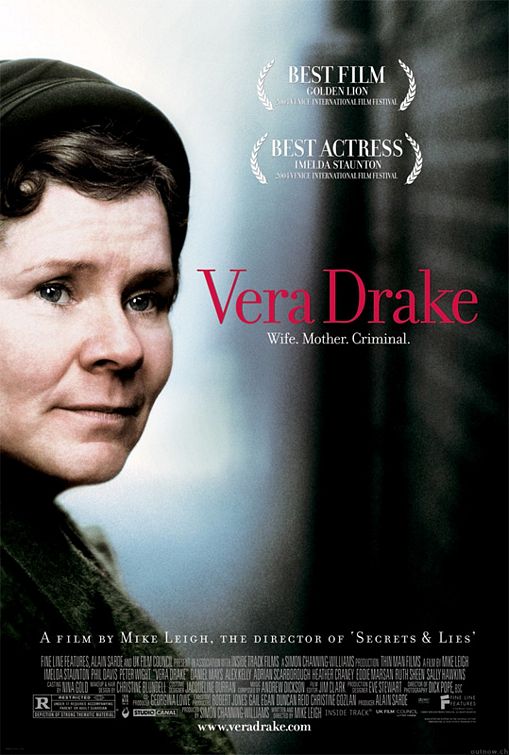 'Vera Drake': A Powerful Transcendent Character Study About A Golden-Hearted Woman
This is, technically, one of the few foreign films I have reviewed thus far since the film is from Britain. Also, this is the first film I have reviewed and seen from improvisational director Mike Leigh. After seeing this, I would love to see more of his work because this one is a true piece of art
.
Story:
Set in 50's Britain,
Vera Drake
is about a working-class woman named Vera Drake (Imelda Staunton) who cleans the houses of rich people for a living. But, she also has a secret job as an abortionist. When one of her clients nearly dies, she is then caught and arrested, and starts to see her world and family begin to crumble.
What I Liked About It:
The thing that I loved the most about this film, which I think makes the film, is the performance from Imelda Staunton. She starts out as very cheerful and optimistic, but as she is caught by the police, she then breaks down and we begin to feel sorry for her. In the scene where she is caught, I remember I was feeling as nervous as she probably was when she was being interrogated. Plus, since I am still on the subject on Imelda Staunton, talk about an actress that can do a complete 180. It's amazing how she went from playing probably the nicest woman ever in this to Dolores Umbridge, a world-class b*tch in the
Harry Potter
films.
I thought it was interesting that the film makes us feel sorry for her not necessarily because of the act she is being accountable for, but because she performs it out of kindness and sympathy. There is a scene where Vera says that the girls she helps have nobody else to turn to and can't have a baby for various reasons, so they come to her. So, the film demonstrates a woman being held accountable for having a heart of gold.
What I Didn't Like About It:
Now, one thing that sort of bugged me was that there was a subplot involving a girl, played by Sally Hawkins, who gets impregnated and doesn't share a scene with Vera. That bugged me because since Hawkins' character doesn't meet the main character, I'm not sure what she had to do with the film. It definitely doesn't mean Sally Hawkins' talent was wasted or anything like that, it's just my main gripe with this movie.
Consensus:
Overall,
Vera Drake
is a very nuanced character study about how one is criminalized for having sympathy and features a gripping yet silent performance from Imelda Staunton. If you want a dramatic film that doesn't feature actors being dramatic and overdoing it or if you want a film that is character driven, then I would highly recommend giving this one a watch.
Rating: 4.5/5