There is the old saying, "It's not what you know, it's who you know", and there are plenty of actors that know these directors pretty well and tend to collaborate with them on most of their projects. Here is the top 10 list of the most actor-friendly directors:
10. Wes Anderson:
While I may have expressed my harsh feelings about
Moonrise Kingdom,
I'll admit that Wes Anderson not only works with the same cast, but he always gets the best cast for his movies. Some of his most frequent collaborators include Bill Murray, Owen Wilson, Jason Schwartzman, Anjelica Huston, Luke Wilson, Adrien Brody, and Willem Dafoe.
9. Lars Von Trier:
LVT may be a very controversial director who has his own ways of directing his casts, and his films (
Dogville, Dancer in the Dark, Antichrist, Melancholia,
etc.) may be very polarizing, but he still has actors who have previously worked with him asking "What film are you planning next?". Some of his most frequent collaborators include Stellan Skarsgard, Udo Kier, John Hurt, Willem Dafoe, and Charlotte Gainsbourg.
8. Joss Whedon
: Joss Whedon may have produced a lot of shows, including
Buffy the Vampire Slayer,
Angel, Firefly, Serenity,
and
Dollhouse,
but he has also done directing, so I'd say he still counts. He has directed
The Avengers,
which has Chris Hemsworth, who also starred in Whedon's other project that came out last year,
Cabin in the Woods.
Plus, his film that came out this year,
Much Ado About Nothing,
stars some of his frequent collaborators, which include Nathan Fillion, Clark Gregg, and Amy Acker. Some of Whedon's other regulars include Eliza Dushku and Adam Baldwin.
7. Paul Thomas Anderson:
Like the other Anderson on this list, PTA has directed a few films (
Hard Eight, Boogie Nights, Magnolia, Punch-Drunk Love, There Will Be Blood, The Master)
yet he has many actors that have worked with him before asking what films he has lined up next. Some of his frequent collaborators include Philip Seymour Hoffman, William H. Macy, Julianne Moore, John C. Reilly, Melora Walters, and Alfred Molina.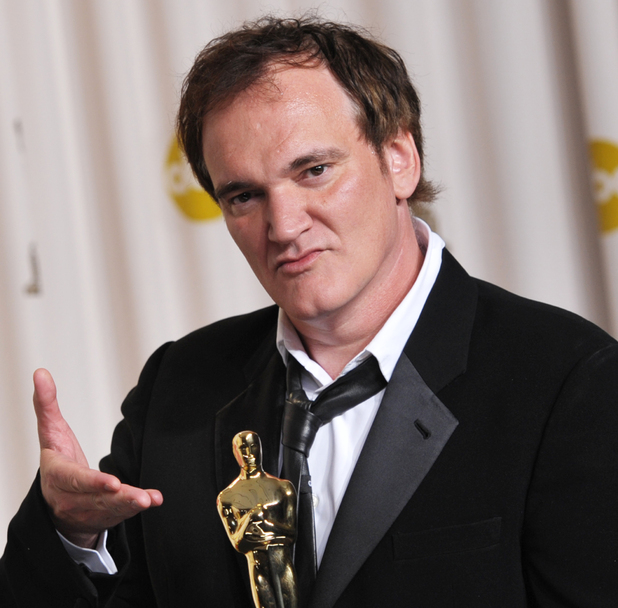 6. Quentin Tarantino
: Whenever an actor works on a QT film, they seem to enjoy the experience of working on his fun yet ultra-violent pictures, such as
Pulp Fiction, Kill Bill, Reservoir Dogs,
and
Inglourious Basterds.
Some of his most frequent collaborators include Samuel L. Jackson, Tim Roth, Uma Thurman, Harvey Keitel, Michael Madsen, Steve Buscemi, and Christoph Waltz, who won two Oscars for starring in
Inglourious Basterds
and
Django Unchained
.
5. Woody Allen:
One of cinema's most treasured and landmarked directors, it's no surprise that Woody Allen assembles the same cast for his pictures. Some of his most frequent collaborators include Mia Farrow, Judy Davis, Diane Keaton, Scarlett Johansson, Alec Baldwin, Larry David, Jeff Daniels, Blythe Danner, and Dianne Weist, who won two Oscars for starring in Woody Allen's past films,
Hannah and Her Sisters
and
Bullets Over Broadway.
4. Coen Brothers:
The only duo on this list, the Coens are two directors that seem to have the same cinematic mind and filmmaking eye. They have directed films of many different genres and are even able to blend different genres onto one film, yet they assemble the same cast. Some of their most frequent collaborators include John Goodman, Frances McDormand, Steve Buscemi, George Clooney, Holly Hunter, Jeff Bridges, and Billy Bob Thornton.
3. Tim Burton:
A director who has his own unique visual eye, Tim Burton offers his own take on the fantasy, sci-fi and horror genres. Yet actors aren't too scared to work on his movies or work with him as he collaborates with the same actors. Some of his most frequent collaborators include Helena Bonham Carter, Danny DeVito, Michelle Pfeiffer, Winona Ryder, Paul Reubens, Michael Keaton, Martin Landau, Christopher Lee, and of course, Johnny Depp.
2. Martin Scorsese:
Even though some of his films (
Raging Bull, Goodfellas, The Departed)
deal with violence and dark themes, Martin Scorsese appears to be the opposite of some of the mean-spirited characters he showcases as the actors that work on his films tend to work with him more than once. Some of his most frequent collaborators include Robert De Niro, Leonardo DiCaprio, Harvey Keitel, Joe Pesci, Illeana Douglas, Willem Dafoe, John C. Reilly, Barbard Hershey, and Daniel Day-Lewis.
1. Steven Soderbergh
: Steven Soderbergh is a director that usually falls on and off the radar, doing indie pics (
sex, lies, and videotape)
as well as blockbusters
(Ocean's
trilogy)
,
and even does TV work
(Behind the Candelabra).
Plus, he works with both A-listers and even actors that aren't as well known. Some of his most frequent collaborators include Matt Damon, George Clooney, Don Cheadle, Brad Pitt, Catherine Zeta-Jones, Viola Davis, Michael Douglas, Benicio Del Toro, Julia Roberts, Channing Tatum, Jude Law, Elliot Gould, and Albert Finney.
So, that was my list of the top 10 most actor-friendly directors. If there is anybody that you would add to the list, feel free to write in the comments section. Thanks for reading!